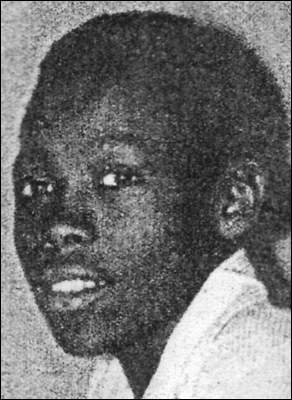 For 43 years, Henry Hezekiah Dee's family and friends had only their memories of the 19-year-old, who, along with is friend Charles Eddie Moore, was abducted and murdered by Klansmen in southwest Mississippi in 1964. Filmmaker David Ridgen and Thomas Moore, brother of Charles, have recently discovered a photo and given back to the world the face of Henry Hezekiah Dee.
Jerry Mitchell of the Clarion Ledger reports:
Until recently, the only photograph of Henry Hezekiah Dee that family members knew of was in his wallet when he was killed in 1964 with Charles Eddie Moore after reportedly being abducted by Klansmen in Meadville. Authorities never gave the family the picture back.
The only images family and friends had of Dee were the ones they carried in their minds.

"There had always been a picture of Charles Moore, but it felt like Henry Dee, once he had been murdered, had simply vanished off the planet," said Canadian Broadcasting Co. documentary filmmaker David Ridgen....

Recently, someone they interviewed in 2005 discovered photographs in their home.
"Flipping through their collection, they saw one picture that reminded them of our questions and our quest," Ridgen said. "We got back in touch with this person, were given the photograph by them and then checked the photo with several people who knew Henry."

All confirmed it was Dee.

The picture is now in the hands of federal prosecutors for next week's federal trial of Seale.

Sharing this photo means jurors will get a chance to glimpse pictures of both victims, as will Seale.

Dee's sister, Thelma Collins, said when she found out there was a photograph of her brother, "I was so happy till I cried because we've been looking for it for a long time."

The family had found no solace in visits to Dee's grave because no marker was there, nothing to indicate this 19-year-old had ever lived and breathed the air in Franklin County, nothing to show what his life might have been.

Dee's other sister, Mary Byrd, still feels the hurt - a hurt not only from losing a loved one, she said, but also from having nothing to remember him by.

When she learned Tuesday that a photograph had been found of her late brother, she exhaled and said, "It feels good. I'm so glad for that."

Upon seeing the picture of his old friend for the first time, Thomas Moore said, "I almost felt the earth move beneath me. It was overwhelming."

He saw in the photograph the Dee he remembered from his class in high school - tall, slim, white teeth, with a laid-back personality and the memorable hair he later treated to look like singer James Brown.

Thomas Moore is planning a service soon in Franklin County to remember the slain teenagers and to build a permanent memorial to honor them.

That memorial will now contain the photographs of Dee and Charles Eddie Moore together.

"They lived together, and they died together," Moore said. "Now they'll be together."
RELATED POSTS